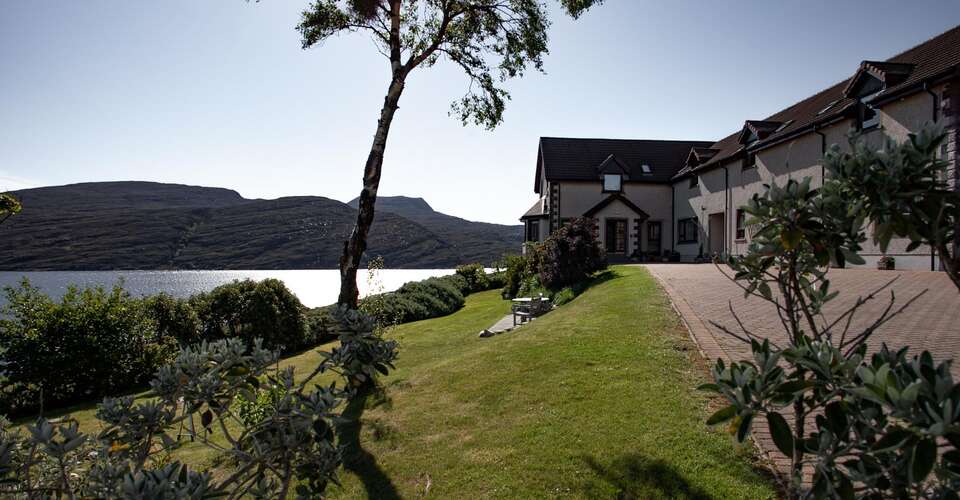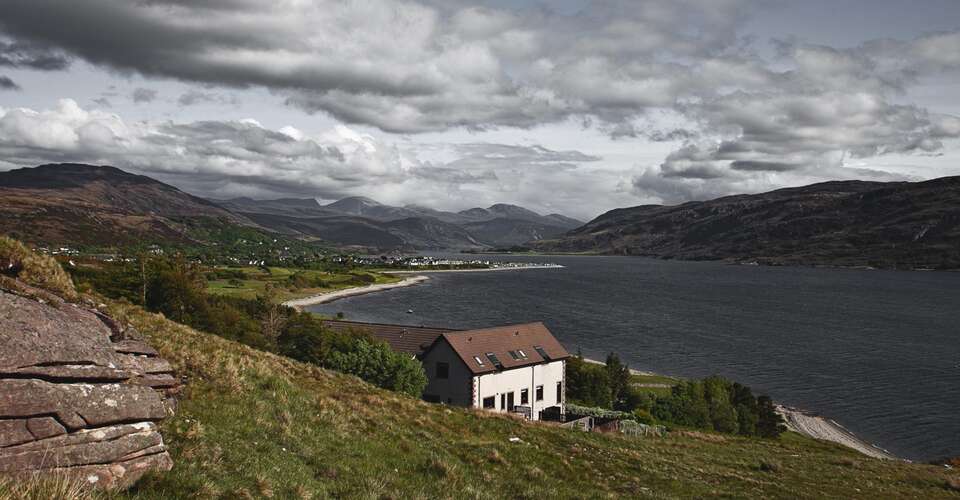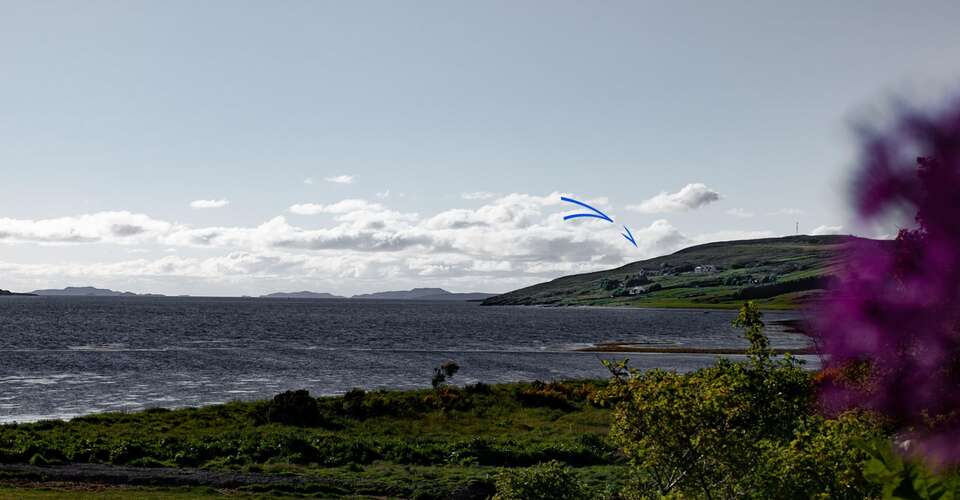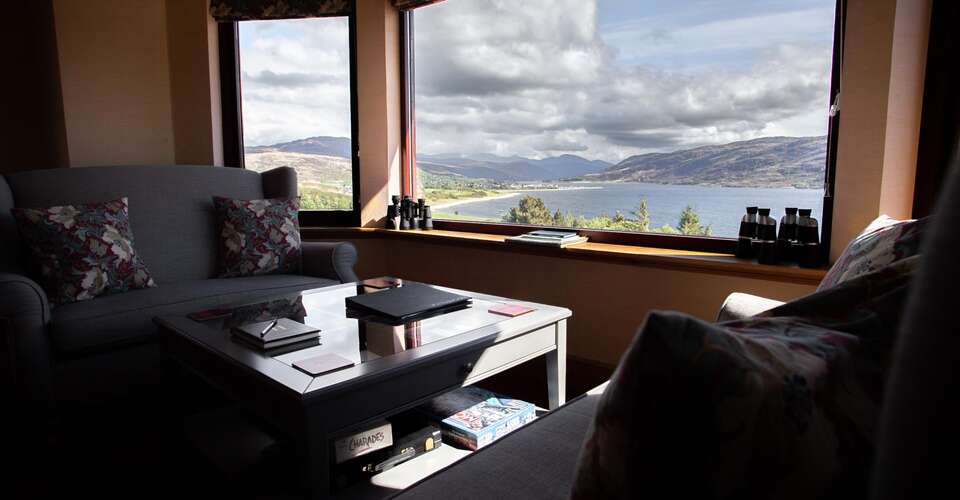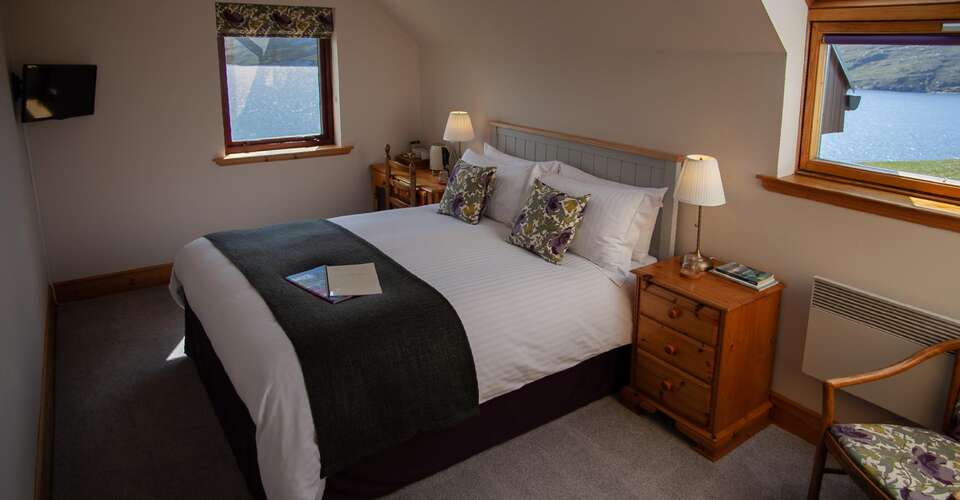 Guest House in Ullapool
Neil and Aidan welcome you to Ardvreck House; a comfortable and friendly place to stay whilst visiting the North West Highlands.
Situated roughly one and a half miles North of the fishing village of Ullapool in the North West Highlands, following along the route of the NC500;Ardvreck House enjoys spectacular views of Loch Broom, Ullapool and the surrounding mountains from a secluded location on the hillside;the perfect base for relaxing after exploring all that the local area has to offer. A short drive or a stunning walk along the beach will take you in to the village where several good eating places can be found as well as local tourist attractions and the ferry port which will take you twice daily to Stornoway.
Ullapool itself was founded in 1788 as a Herring Port by the British Fisheries Society;the harbour is still a bustling place today. Fishing boats, sailing boats, ferries and even the occasional cruise ship come and go.
We hope that you enjoy your stay with us here at Ardvreck House.
COVID-19 PANDEMIC
2nd June 2020
We are working to ensure that your visit with us is as enjoyable and as safe as possible and with this in mind have implemented the below procedures and precautions for the remainder of our 2020 season. Please note that these procedures and precautions are subject to change at any point in time in line with further support and guidance provided to us by the Scottish government.
ARRIVAL, CHECK-IN AND CHECK-OUT:
If you are displaying any symptoms of COVID-19 we kindly ask that you do not enter the Guest House. Symptoms include a new and persistent cough, a high temperature or a change or loss in smell/taste. Guests may be subjected to temperature screening on arrival. Any guests showing symptoms of COVID-19 may be asked to leave the premises. If you are unable to stay with us owing to the fact that you are showing symptoms of COVID-19 on arrival to Ardvreck House it is important to note that your reservation will be charged in full if we are unable to re-sell your room.
Hand sanitiser stations are provided throughout the Guest House. Please ensure that you sanitise your hands upon entering and continue to do so frequently throughout your stay at each sanitising station;it is important that everyone adheres to the social distancing guidelines and ensure social distancing of at least 2 metres from others at all times, we have marked our floors throughout as a reminder.
We have installed a perspex screen at the reception door, therefore allowing us to safely welcome you to Ardvreck House - this gives you the opportunity to ask any questions that you may have on arrival. Unfortunately given the present circumstances we will be unable to assist with your luggage or show you to your room. We are as keen as always to ensure that your stay with us is as comfortable as possible and so we will provide you with an in-house telephone number that can be used to contact us throughout your stay if necessary.
Payment will be taken on arrival using the credit/debit card held on file (specified at time of booking) and an invoice issued directly to your e-mail. Should you wish to change the card you want to pay with please contact us as soon as possible. Cash payments will not be accepted for the foreseeable future.
Check-out is by 10:00am, on departure simply return your room key to the drop box outside of the reception area;we ask that you use the hand sanitiser before leaving the Guest House.
GENERAL:
In order to run efficiently in line with our own procedures and precautions we will be running at a 50% capacity (where possible) for the remainder of our 2020 season.
We expect you to follow the social distancing rules set out by the government and adhere to good hand hygiene at all times;general information on how to prevent the spread of COVID-19 will be provided on a laminated sheet in your bedroom. We have introduced floor markings throughout the house to aid with social distancing (please keep a minimum of 2 metres between yourself and other guests) and hand sanitiser stations are available for your frequent use. Please be courteous and respectful of others, following the social distancing guidelines set out by the government, especially in those places that social distancing may be harder (such as hallways) where you may be required to return to your room in order to allow others to pass by at a safe distance.
Unnecessary high touch surfaces and decorative items (such as tea trays, books, information folders, scatter cushions and throws) will be removed from guest rooms for the foreseeable future.
Room instructions and general information will be provided on laminated sheets to allow them to be wiped down and disinfected between guests.
If for any reason we are required to come into close contact (for example;assistance with issues within your room or at breakfast service) we will be wearing personal protective equipment which may include:a mask, a visor, a disposable apron and disposable gloves.
If at any point during your stay you begin to feel unwell and show symptoms of COVID-19, please make us aware;this should be via telephone so that you do not leave your room and risk spreading the virus. We will then contact the local authorities on your behalf for advice on how to proceed.
HOUSEKEEPING AND GENERAL CLEANING:
Frequently touched surfaces in communal areas (such as light switches and door handles) will be cleaned and disinfected regularly throughout the day.
Bedrooms and en-suites will be deep cleaned before your arrival;hard surfaces will be wiped down and disinfected and any soft-furnishings and fabric items in the room will be sprayed with a disinfectant spray.
Bed linen and towels will be washed on a high heat with the addition of a sanitising laundry detergent.
Bedrooms and en-suites will only be cleaned following guest departure, we will not be offering daily housekeeping at this time.
BREAKFAST SERVICE:
Our dining room has been re-designed to ensure that social distancing guidelines are adhered to;the number of tables has been reduced and each table has been carefully positioned to ensure a 2 metre gap between your own table and that of another guest.
A dining time, table allocation and pre-order form will be provided to you on arrival;it is essential that guests adhere to the given time slot and table allocation and provide us with a completed pre-order form.
We have removed our self-serve buffet in order to minimise the risk of cross contamination and maintain social distancing;instead, we will be offering a full table service.
Please be advised that we will be wearing personal protective equipment whilst preparing and serving your breakfast - this may include:a mask, a visor, a disposable apron and disposable gloves.
COMMUNAL AREAS:
Unfortunately whilst social distancing measures are in place the residents lounge will not be available for use;this also applies to the use of any other communal areas, such as the dining room which will only be open for use at designated times for breakfast service with a space of 2 metres between each table.
---
Location
Our Facilities
Safe & Secure Payment
Free parking
Parking facilities
Golf Course Nearby
Family rooms
Lakeside
Internet services
Wifi
Country retreat
More Info »
---
"Ardvreck House is just a couple of minutes drive from Ullapool, well signposted and with ample parking. Welcome was friendly and efficient. Room was spacious with ample storage for cases, boots, coats etc, was clean and tidy with a desk and chair and a comfortable bed. En suite was a good size with plenty of storage for toiletries etc. and the shower had a strong flow of hot water. There were plenty of options for breakfast and the very well cooked full Scottish sets you up for the day. There is a lounge area adjacent to the dining room where you can sit and finish your coffee and take in the stunning views. Would gladly recommend this B&B."
"What a superb location right on the loch. Lovely room, huge comfy bed, nice toiletries to use, breakfast was scrummy and a lot of it. Huge bay window in the lounge area, where we sat on the sofas to watch for porpoises sadly this time didn't see any. Aidan was lovely, chatty and friendly . Wouldn't hesitate to stay here again. "